including the previously unreleased track "Ramadan-Ding-Dong"
Tracks
Darkness On My Mind 02:22
music and lyrics: A.E. Freier
originally released 2004
from album "Legend of the Undead"
additional musicians: Carsten "Casi" Harbeck (bass, git)
Soon One Morning 02:43
music and lyrics: A.E. Freier
originally released 2013
from album "Desperation"
Kill Kill Kill 01:47
music and lyrics: A.E. Freier
originally released 2009
from album "*Punk*"
additional musicians: Dirk "Shadow" Schmettow (Bass)
Baby Bye Bye 02:06
music and lyrics: A.E. Freier
originally released 2004
from album "Legend of the Undead"
additional musicians: Dirk "Shadow" Schmettow (bass) Sylvia Schmidt (backvox)
You Are Dead Before You Died 02:23
music and lyrics: A.E. Freier
originally released 2008 Devils Ruin Rec. USA
released 2009
from album "Death Country"
Killerwolf 02:44
music and lyrics: A.E. Freier
originally released 2009
from album "*Punk*"
additional musicians: Dirk "Shadow" Schmettow (Bass)
Mood For Hate 03:23
music and lyrics: A.E. Freier
originally released 2004
from album "Legend of the Undead"
additional musicians: Dirk "Shadow" Schmettow (bass)
666 02:08
music and lyrics: A.E. Freier
originally released 2009
from album "*Punk*"
additional musicians: Dirk "Shadow" Schmettow (Bass)
Race With The Devil 02:21
music and lyrics: John Mcneill
originally released 2015
from album "I hate People"
additional musicians: Daniel Thiede (git) Tom Müller (dr)
——————————————
They Know What You Do 02:13
music and lyrics: A.E. Freier
originally released 2013
from album "Desperation"
additional musicians: Dirk "Shadow" Schmettow (Bass)
I Cast A Lonesome Shadow 02:15
music and lyrics: Hank Thompson
originally released 2013
from album "Desperation"
I Hate People 02:04
music and lyrics: A.E. Freier
originally released 2015
from album "I hate People"
additional musicians: Daniel Thiede (git) Tom Müller (dr)
13 02:26
music and lyrics: Glenn Danzig
originally released 2004
from album "Legend of the Undead"
Mournin' 02:38
music and lyrics: A.E. Freier
originally released 2013
from album "Desperation"
Rockabilly Riot 02:26
music and lyrics: A.E. Freier
originally released 2009
from album "*Punk*"
additional musicians: Dirk "Shadow" Schmettow (Bass)
Darkworld 04:00
music: Daniel Thiede lyrics: A.E. Freier
originally released 2015
from album "I hate People"
additional musicians: Daniel Thiede (git) Tom Müller (dr)
Highwayman 03:05
music and lyrics: Jimmy Webb
originally released 2013
from album "Desperation"
Ramadan-Ding-Dong 02:04
music and lyrics: A.E. Freier
previously unreleased
additional musicians: Daniel Thiede (git)
Love – Hate – Violence – Romantic – Action!
Play the new fantastic Reverend Elvis game! Admitted only for adults +18! Contains scenes of extreme violence and immoral sexuality and extreme immoral sexual violence!
Collect all coins to win!
shocking thrilling extreme
Reverend Elvis and the Undead Syncopators on Document Records!
Document Records is proud to announce our upcoming releases for fall/2017. Music & Culture apart the short-lived fashion and middle of the road mainstream culture. One of the extraordinary figures in the music scene of the last decade is Reverend Elvis/ A.E. Freier. He released a bunch of records in Europe and USA with several of the highest talented musicians you ears can hear. So its time for a retrospective of his music and art. Focused on his European label "Suzy Q Records" . The "Reverend" is calling his music themself "Underground Rock'n'Roll". So give them a try.
DOCUMENT – music of our time!
Reverend Elvis and the Undead Syncopators "Gospel of the Underground" – Best of Suzy Q Years! 2003 – 2017! DOC-LP-389
Release Date: October 2017
---
Opening for " Jan Kummer – Werkschau"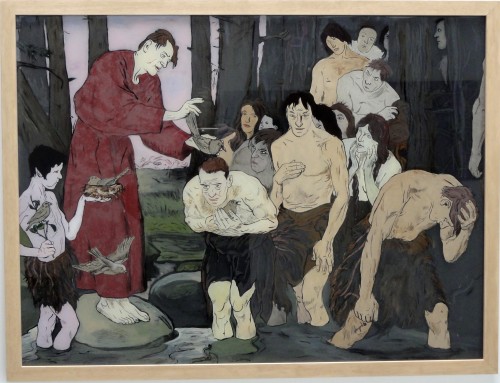 Jan Kummer, 1965 geboren in Weimar, übte von 1981 bis 1991 verschiedene Tätigkeiten beim Fernsehen der DDR und in der Stadthalle Chemnitz aus. Bereits seit 1981 beschäftigte er sich intensiv mit Malerei, Grafik und Musik. Von 1984 bis 1992 war er Mitglied des Avantgarde-Künstlerkollektivs AG Geige, das ihn auch über die Grenzen der damaligen DDR hinweg einem breiten Publikum bekannt machte. Jan Kummer lebt und arbeitet in Chemnitz.
Grundsätzlich ironisch ist Kummers Umgang mit Stoff und Gestalt, wobei sein ironischer Blick ganz selbstverständlich scheint. In seinen Arbeiten kehren die sechziger und frühen siebziger Jahre als Kindertraum aus der DDR-Provinz wieder. Das die Zeit seiner Kindheit und Jugend als sozialisierende Kraft nach wie vor unerschöpfliche Quelle für sein kreatives Schaffen ist, eint ihn mit vielen anderen Künstlern. Die Figuren auf Kummers Bildern spiegeln das Allzumenschliche: Gier, Gefallsucht, Einfalt, Bigotterie, List, Überforderung von den Umständen usw. So liebevoll aber Kummer kleinste Details seiner Figuren im Bild bedenkt, ist es, als versuche er sie dadurch mit der Welt zu versöhnen. Damit – nicht nur mit ihrem Retro-Schick oder Trash-Faktor – greifen sie in die Gegenwart.
Die kleinen ländlichen Manufakturen Anfang des 20. Jahrhunderts, die sich der Eglomisierung bedienten, um der einfachen, mitunter dem Lesen und Schreiben unkundigen Bevölkerung die biblische Geschichte zu erzählen sind Kummer nah, erzählt doch auch er seine Geschichte der Zeit mit Bildern, die einem Wörterbuch gleichen, um in unserer übervisualisierten Welt zu lesen.